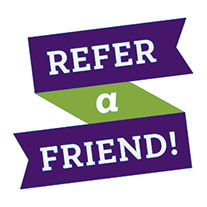 When you refer your friends to Kick It Out, we will give you a special gift.
Your referrals are the biggest compliment we can receive and we certainly appreciate them. Exciting Details!
New friend being referred must register, attend classes for the entire season to receive your KIO Monthly Account Referral Credit of $5 per student referred.  Credit will be applied towards last month tuition of the season.

There is a limit of 6 student referrals per month (limit of $30) of Referral Credits that you can receive!